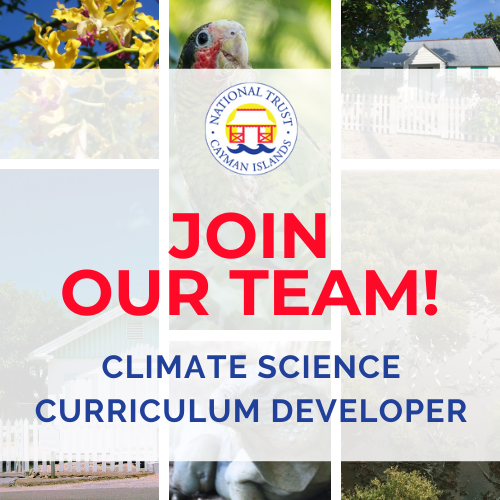 March 14, 2023
Join Our Team: Climate Science Curriculum Developer
Join Our Team! The National Trust for the Cayman Islands is seeking a Climate Science Curriculum Developer, based on Grand Cayman.
We are looking for an enthusiastic and passionate person to work with our local schools in building a climate science curriculum. This is a one-year temporary, grant-funded position to create a pilot programme for a standardised climate science curriculum for both public and private schools that will be targeted to Year 4 and 7 students.
Timeline – Work will begin immediately. The pilot project featuring the created content will be rolled out to schools from September to December 2023. The programme will then be adjusted based on results and feedback. Findings will be written into a report that will be submitted by April 2024.
Click this link to read the full job description 
This is a full-time position for the duration of the grant. The salary offered is $3,700-$4,200/month. The National Trust provides premier health and pension benefits. Preference will be given to qualified Caymanians.
The deadline for application is midnight March 31st 2023. Please send cover letter and C/V to Catherine Childs at environment@nationaltrust.org.ky
BACK TO NEWS
sign up for our newsletter