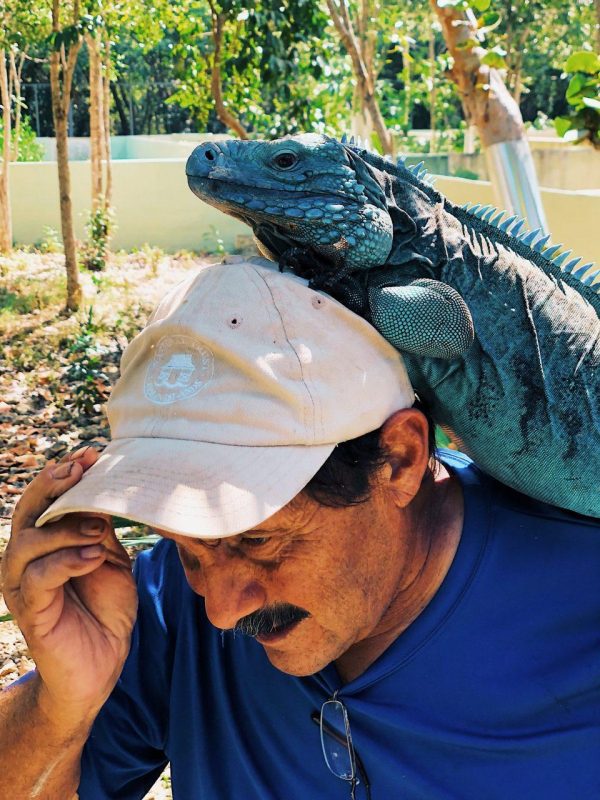 April 3, 2019
Iguanas, Schnitzels And Disco Distilleries: The Cayman Islands Beyond The Beach
Alberto Estevanovich is cradling a meter-long iguana at the Blue Iguana Habitat at Queen Elizabeth II Botanic Park.
There are signs all over warning folks that the iguanas may bite, but Escovitch has been working with these endangered animals for 10 years and isn't too worried about a creature that's pretty much wrapped around his neck.
"Hey, bobo," he says to a particularly scary-looking animal as he reaches down to pick it up and show it off to park visitors.
He explains this particular creature is called His Royal Highness Prince Peter, and that he prefers to be called by his full name.
Estevanovich worked in the food and beverage business at Grand Cayman hotels for years but jumped at the chance to work at the Blue Iguana Habitat once he found out about their mission to conserve the critters, which are found only on Grand Cayman. There are other iguanas in the Cayman Islands and elsewhere in the Caribbean, but not Blue Iguanas, which are darkly coloured when it's cool so they can absorb more heat but turn blue in the hot afternoon sun.
"They're my family," he said. "I love them. On Christmas and Easter, we give them special fruits. We do."
The 74-year-old Estevanovicth said working outside with the iguanas keeps him young. "It's a lot better than working in an office," he said. "And the iguanas don't talk back."
BACK TO NEWS
sign up for our newsletter