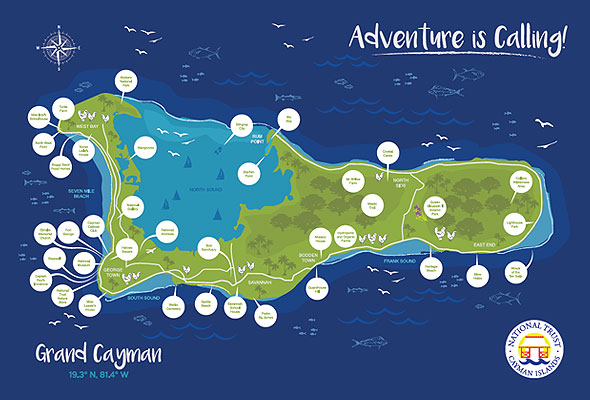 August 15, 2018
National Trust Launches "Explorer Passport"
The National Trust for the Cayman Islands announces the release of the "Explorer Passport to Grand Cayman", the first comprehensive scavenger hunt booklet for the island. The Passport is a one-of-a-kind adventure that allows visitors and residents a fun way to discover the many hidden or little-known places around Grand Cayman. Participants travel to different sites, discover unique aspects of each area and learn about the heritage and natural wonders of our beautiful island.
This fun 20-page booklet features photos of sites and includes a map and stickers that will allow you to mark where you have been. Each of the pages has a variety of nature-related activities that you can see and explore. There are also several "Did You Know" facts that will encourage you to have fun while exploring our island's nature and wildlife. A special thanks to Cayman National Bank for helping us create this unique activity booklet.
There is a lot to be discovered on our island, and this fantastic scavenger hunt allows you to connect with nature and get out with your family. The booklet is available for CI$10.00 at Cayman's Nature Store located in Dart Family Park, South Church Street.
BACK TO NEWS
sign up for our newsletter