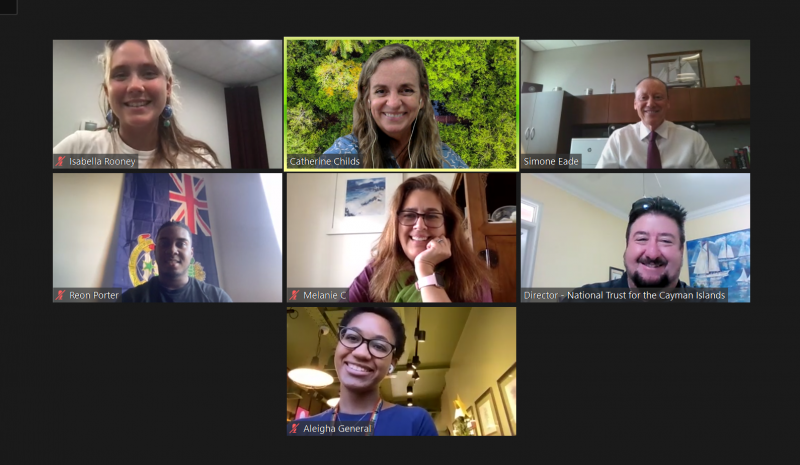 November 4, 2022
COP27 Representatives Meet with His Excellency Governor Martyn Roper
The National Trust and youth representatives for COP27 Reon Porter, Aleigha General, and Bella Rooney met with His Excellency Governor Martyn Roper.
"I met with the National Trust of the Cayman Islands' youth delegation over Zoom yesterday ahead of their trip to Egypt to attend the Climate Change Conference COP27.
Young Caymanians Reon Porter, Aleigha General and Bella Rooney have been competitively selected to travel to Sharm El-Sheikh accompanied by Catherine Childs, Environmental Programme Manager at the National Trust.
On the call we spoke about this being a crucial decade for action on climate change. We discussed the move towards renewable energy and the opportunity for Cayman to become a role model in the region. I emphasised that there is an openness and willingness from the Premier and the Cayman Islands Government to speak to young people about the important issue of climate change and for civil society and governments to work together to improve things for future generations.
COP27 starts on Sunday and will also be represented by a strong UK Ministerial delegation including the Prime Minister Rishi Sunak and the new Minister for the Overseas Territories Lord Goldsmith.
My thanks to the National Trust for all they do and for enabling these young Caymanians to have an opportunity to take part in this global debate on climate change.
My congratulations and best of luck to the team. I hope it will be a rewarding and enriching experience. I look forward to meeting them on their return to hear about their experience." His Excellency Governor Martyn Roper
BACK TO NEWS
sign up for our newsletter