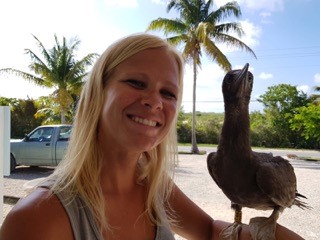 March 6, 2020
International Women's Day 2020
In celebration of International Women's Day, we would like to recognize several incredible local women who are working tirelessly to protect our environment. They are all true inspirations.
Shirley Roulston Is a local hero! We admire her bravery and hard work with CPR to draw attention to the importance of protecting the coral reefs in the George Town Harbour and initiating the Cruise Port Referendum. Other wonderful women from CPR are Katrina Jurn and Michelle Lockwood.
Ellen Cuylaerts is a renowned wildlife and underwater photographer. She is a member of the illustrious Explorers Club, Women Divers Hall of Fame member, ADEX ambassador for underwater photography and conservation, cave diver and Ocean Decade Alliance member. Ellen is always happy to give classroom talks about her experience in the ocean and on the ice.
Claire Hughes is the founder of Plastic Free Cayman. She has been instrumental in raising awareness about the importance of reducing and/or giving up single-use plastics. Claire organizes monthly beach cleanups that has brought our local community together to help keep our natural and marine environment clean and plastic free.
Linda Clark is an amazing eco warrior. She has helped tremendously as a volunteer with local non-profits including the National Trust for the Cayman Islands, Save Cayman and Sustainable Cayman. Linda is an inspiration to all of us.
Tanja Laaser is an intern with DoE, she is the head of Green Iguana B'Gonna project in Little Cayman and a valuable member and volunteer of the National Trust. She has assisted in the ongoing research on the birds of the Booby Pond, boobies and frigates, sponsored by the DoE including population counts etc for a number of years. Tanja is the go to person for injured and orphaned birds in Little Cayman. She successfully fledged two orphaned booby chicks last season that had fallen from their nests or been abandoned and is currently attempting to keep alive the first booby chick this season found only this past Tuesday.
Carrie Manfrino is the President, CEO and senior scientist for CCMI, and has a deep-rooted curiosity is in the extinction risks of modern corals and she is concerned about the influence reef degradation has on coastal communities. She leads a diverse research programme with collaborators from all over the world who work on topics including impacts of ocean acidification and climate change on corals, algae, and fish.
Last, but not least, Gina Ebanks-Petrie Cayman's champion for the environment. She goes above and beyond her job as her dedication to conservation is extremely admirable. Her career in environmentalism includes being the Director of the Department of Environment over 20 years. She leads an amazing team and they do fantastic work protecting our natural and marine environment.
Please share with us other women you would like to acknowledge for their amazing work in local conservation – we know there are many more…
BACK TO NEWS
sign up for our newsletter