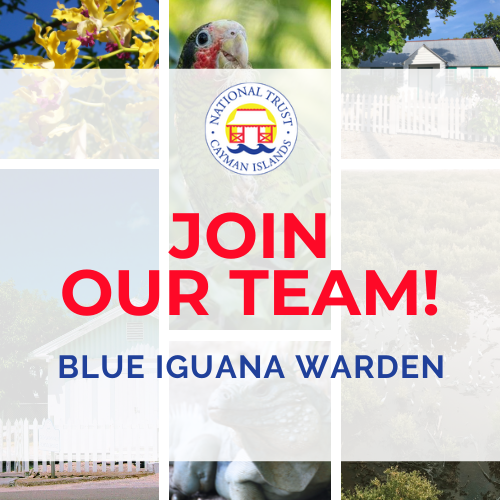 March 17, 2023
Join Our Team: Blue Iguana Warden
Join Our Team! The National Trust for the Cayman Islands is seeking a Blue Iguana Warden, in Grand Cayman.
Background
Blue Iguana Conservation (BIC) is a world leading reptile conservation project under the National Trust for the Cayman Islands (NTCI), focusing on saving the charismatic Grand Cayman blue iguanas.
Main Role/Function
The Blue Iguana Warden is responsible for the care and maintenance of the conservation breeding facility and for the care of the animals housed there. As well as caring for the captive iguanas he/she will be expected to maintain the site to a high standard and support the programme activities as a public attraction, including tours and talks as requested. As well as working at the facility He/she is also responsible for supporting field monitoring activities relating to BIC.
Required Skills and Competencies
• Caymanians or those with residency rights will only be considered for the role.
● Identifies and aligns with the core values of the NTCI organization.
● Adheres to NTCI's brand values.
● Demonstrates NTCI behaviours in ways of working.
● A clean, valid driver's license and access to own vehicle if possible
● Must be computer literate with a good command of the written and verbal English language and efficient in basic computer Programmes such as office suite
Click here to read the full job description
Working Hours:
The working hours are 36 per week. 5 day working week. 8am – 4.15pm.
REMUNERATION:
Starting Salary $2,000 per month. 20 days paid holiday. 100% health care coverage. Statutory pension contribution.
Preference will be given to qualified Caymanians. The deadline for application is 21 April 2023. Please send cover letter and C/V to Frank Roulstone director@nationaltrust.org.ky
BACK TO NEWS
sign up for our newsletter