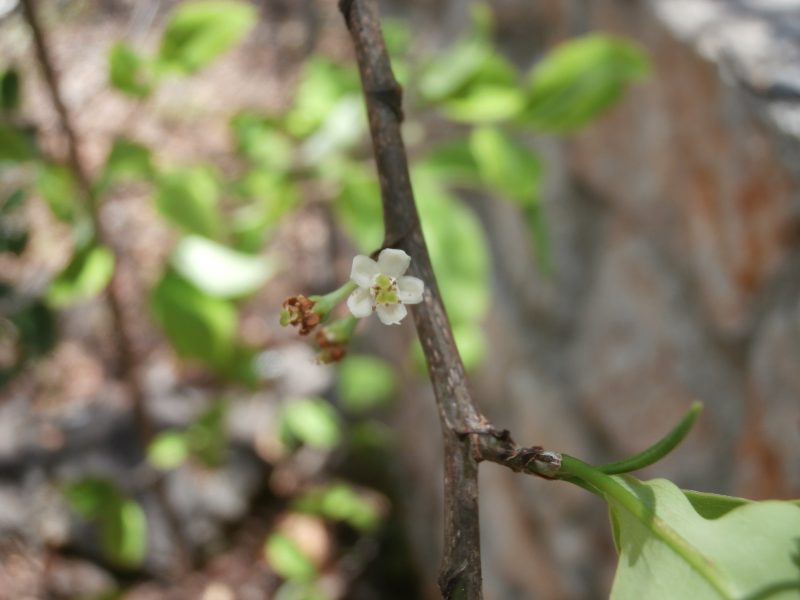 April 27, 2020
Celebrate Nature At Home – Plant a Native Tree
In celebration of Arbour Day the National Trust has teamed up again with local nursery, Caribbean Blooms to celebrate nature and encourage the preservation of native trees.
The planting and nurturing of trees promotes cleaner air and water, protect wildlife in their natural habitats, and improve human health.  This year, due to the worldwide pandemic, our traditional Arbor Day has been cancelled.
This public health crisis has taught us to be more agile and creative in finding ways to celebrate and connect with nature. We invite Cayman to end Earth Month on a high note by taking the opportunity to plant this year's chosen Arbor Day tree our native Erythroxylum areolatum, locally known as the Smoke Wood tree, in your garden at home.
Purchase a Smoke Wood tree to celebrate Cayman's Arbour Day.  The National Trust office is closed.  However, we invite you to pre-purchase a Smoke Wood Tree using this link.  Part of the proceeds will go directly to the National Trust.
In keeping with the social distancing guidelines set forth by Cayman Islands Government we will be sending out emails the week of May 4th explaining collection options. Check your email for further updates.  The trees will be available for collection according to lockdown restrictions.
Smoke Wood Tree Pricing
1 gal – $12.00
3 gal – $20.00
7 gal – $35.00
For more information please email marketing@nationaltrust.org.ky
Cultural significance of Erythroxylum areolatum locally known as the Smoke Wood tree
When the old Nixon house on Goring Avenue was designated for demolition it was decided to save the house and move it to the National Trust's Mission House property in Bodden Town.
On excavating the old stepwell near on the Nixon house property, a number of old paint tins with wire handles were unearthed. Looking closer at these it was noted that the tins had slits cut into the sides and in the base. They were "Smoke Pots"!
It would not be unusual to find such artifacts in this heritage home. They were culturally used to burn branches of Erythroxylum areolatum  "Smoke Wood" to keep mosquitoes away.  The wood produces a white smoke and has a pleasant odour.
Fast forwarding to present times, the quarantine and isolation of this COVID 19 Virus make us realize that we are dependent on our homestead; making do with what is at hand, the past is becoming more relevant than ever.
Mosquito planes and insect repellent spray didn't exist in those days, Smoke Wood was their only protection from biting insects; Caymanians used what was naturally found around the dwelling. Smoke Wood is a common small 20' tree, often lining the edge of the premises along the fences. The wood is also used for fence posts.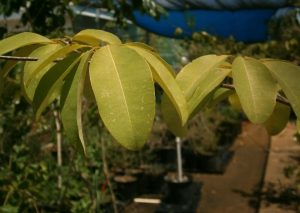 There are three Erythroxylum species in Cayman, Erythroxylum areolatum was the one used as an insect repellent. It is a deciduous bush with a "V" shape growth habit; it makes an excellent hedge or specimen tree.
Signalling spring, fragrant light green flowers will invite many insects to its nectar for about a week and fresh new lime green leaves will emerge on the bare branches.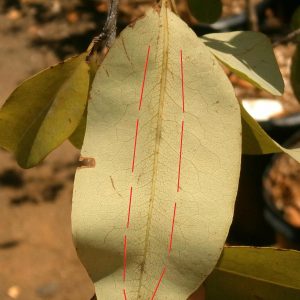 It is easy to identify as there are on the underside of the leaf two parallel lines to the mid vein.  It is fairly drought tolerant and locally found in dry woodland but also on the edge of wetland habitat.
Photo Credits:
Joanne Mercille
Sue Gibb
BACK TO NEWS
sign up for our newsletter