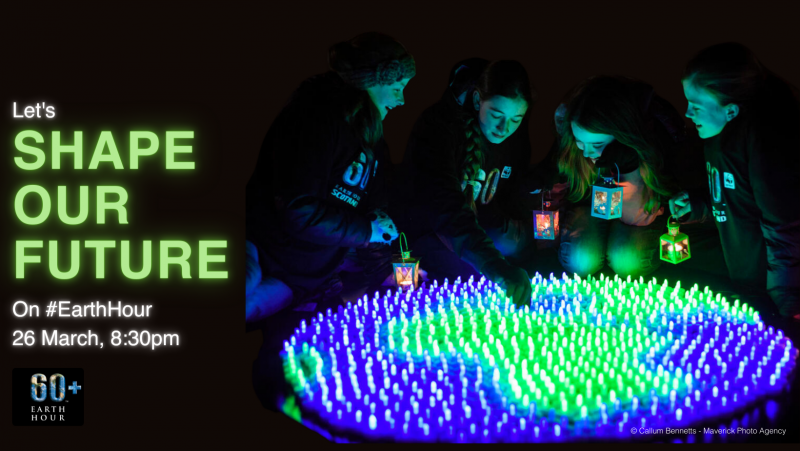 March 17, 2022
Let's Celebrate Earth Hour!
CELEBRATE EARTH HOUR ON MARCH 26!
Earth hour was started in 2007 by the World Wildlife Fund (WWF) as a symbolic hour-long lights-out event in Sydney, Australia to raise awareness of climate change. It is now one of the world's largest movements for the environment and engages supporters in more than 190 countries, all taking action to ensure a brighter future for people and planet. It has become a catalyst for positive environmental impact and has driven major legislative changes by harnessing the power of collective action.
Anyone anywhere can take part in Earth Hour and help to amplify the mission and the impact. Best of all, it's simple and free!!
Read on for some ideas on how to show your support for Earth Hour on March 26th 2022.
HONOUR EARTH HOUR AT HOME
At 8:30 – 9:30pm join in a movement being honored all around the world by lighting some candles, grabbing your flashlight, and turning out the lights! You may be in different time zones, and this may seem like a small action but collectively you are making a big impact!
Don't think you have to just sit there in the dark! Why not tell stories (scary, funny or ones about the Earth?), make a bonfire and roast smores, stargaze, paint, ignite your sense of smell and taste by dining in the dark, watch a movie, have a dance party, play some board games, do challenges – but don't get hurt!
Remind your friends about Earth Hour so that they can join in the fun too!
For more ideas click here!
HONOUR EARTH HOUR IN THE CLASSROOM
It is always fun and engaging to do something a little bit different in the classroom. Honor Earth Hour at School on Friday 25th March by turning off the lights in the classroom and conducting your final lesson of the day without artificial light.
Whether it's math, science, music or PE have your lesson as usual but with a challenging element – no artificial lighting.
Alternatively, you can use the opportunity to learn about the issues that brought us here in the first place. Here are some resources to help you navigate the conversation about nature loss and biodiversity, climate change and solutions.
Let's be honest, everybody loves story time! For a more relaxing hour, turn off the lights and tell stories about the Earth. You could either have your students be the authors of their own stories ahead of time to be shared during Earth Hour, or check out this list put together by Good Reads.
FOLLOW AND SHARE
Follow Earth Hour (Instagram link: @earthhourofficial   Facebook link: @earthhour) on social media and share the "Virtual Spotlight" video that will be posted on March 26th! This will spread the word far and wide and give us the power to #ShapeOurFuture.
2022 IS THE YEAR THE COUNTS
After being postponed in 2020 due to the COVID-19 pandemic, the United Nations Convention on Biological Diversity 15th Conference of the Parties, or simply UN CBD COP-15, is taking place in April and May 2022 – shortly after Earth Hour.
UN CDB COP-15 presents an unmissable opportunity to shape the next decade and beyond, creating a brighter, healthier, more sustainable future – as long as world leaders at the conference establish an ambitious and binding global commitment to reverse biodiversity loss by 2030.
This Earth Hour is a crucial opportunity to put the spotlight on this conference and build the global momentum needed to pressure world leaders into action.
To learn more about UN CBD COP-15 visit https://www.unep.org/events/conference/un-biodiversity-conference-cop-15
BACK TO NEWS
sign up for our newsletter