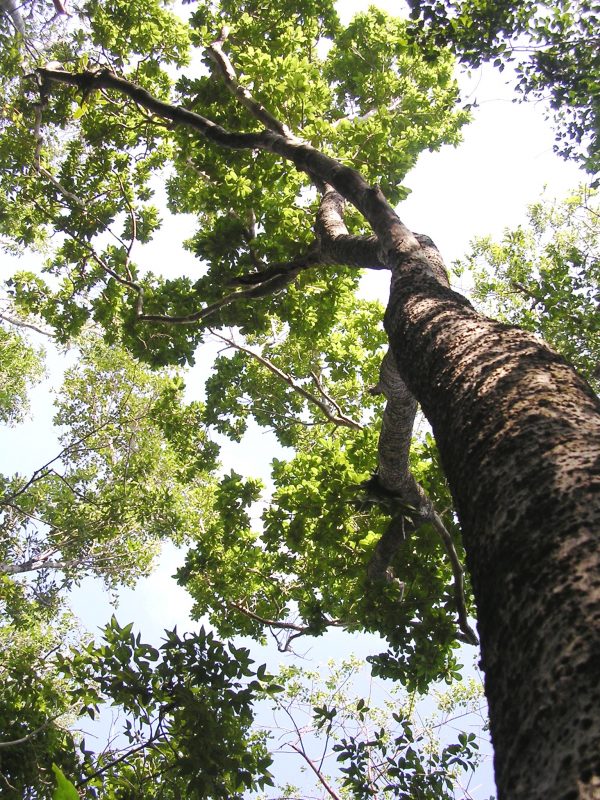 March 20, 2020
International Forests Day: Celebrating Forests of Grand Cayman
The United Nations designated 21st March as the International Day of Forests, a day to raise awareness on the importance of all types of forests.  This year's theme of "Forests and Biodiversity" draws attention to the need to preserve precious natural habitats and serves as a reminder of how incredibly important healthy forests are to the planet.  Forests cover one-third of the Earth's landmass, performing vital functions around the world. In fact, they are the most biologically-diverse land ecosystem, home to more than 80% of the terrestrial species of animals, plants, and insects. Forests are key to combating climate change and to the prosperity and well-being of current and future generations. Yet, despite these priceless ecological, economic, social and health benefits, global deforestation continues at an alarming rate. The UN Secretary-General has called 2020 the "Nature Super Year" because we must act now to turn the tide on deforestation and forestry loss.
Many researchers think that it is humanity's destruction of biodiversity that creates the conditions for new viruses and diseases such as Covid-19. The disruption of pristine forests, combined with rapid urbanisation and population growth, is bringing people into closer contact with animal species they may never have been near before. Well-known scientist David Quammen recently wrote in the New York Times, "We cut the trees; we kill the animals or cage them and send them to markets. We disrupt ecosystems, and we shake viruses loose from their natural hosts. When that happens, they need a new host. Often, we are it." The protection of forests and biodiversity is a global imperative for natural ecosystems, but also for human health and prosperity.
Forests of Grand Cayman
In celebration of the International Day of Forests, we are recognizing unique forests found in Grand Cayman that are protected by the National Trust for the Cayman Islands.  Some of the significant forested areas are the Central Mangrove Wetlands, the Mastic Reserve, the Salina Reserve and Colliers Wilderness Reserve.  Each of these critical natural habitats has its own unique natural beauty and environmental significance.  These precious ecosystems support and maintain biodiversity throughout our island.  Their preservation helps to conserve our endemic flora and fauna as well as indigenous birds and local wildlife, which call these vital habitats home.  Furthermore, our local forested areas serve as an important natural life-support system helping to reduce carbon emissions and subsequently slowing down climate change.
The Mastic Reserve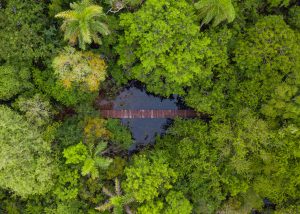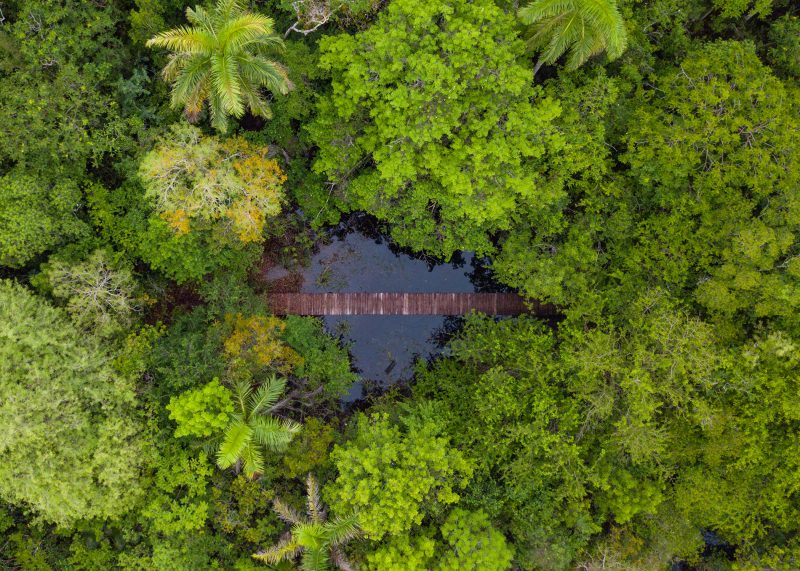 The Mastic Reserve is rather extraordinary due to the fact that it is internationally recognized as one of the last remaining examples of the Caribbean's lowland, semi-deciduous dry forest in the region.  This ancient dry woodland is considered an endangered type of forest as it is now only found in small pockets across the Caribbean.  As a result, the Mastic Reserve is a National Trust protected area and represents the largest contiguous area of untouched, old-growth forest in Grand Cayman.
A notable feature of the Mastic Reserve is Grand Cayman's iconic Mastic Trail which holds great significance to our heritage dating back 120 years.  For a time, the Mastic Trail served as a major pathway for locals.  Now, this rugged trail is a popular nature walk. The Mastic Trail is 2.3 miles long and passes through natural habitats including mangrove wetlands, Silver Thatch Palms (national tree of the Cayman Islands), Wild Banana Orchid (national flower of the Cayman Islands), rare trees such as Cedar and Mahogany, and of course huge Mastic trees.
If you're a nature lover, the Mastic Trail is the perfect nature walk for you!  The Trail is open to the public to enjoy as a self-guided walk and serves as an opportunity to encounter incredible wildlife and birds.  Visitors to the Mastic Trail have a chance to see Cayman Parrots, the West Indian Woodpeckers, butterflies, Bananaquits, Northern Flickers and Agoutis.
The Central Mangrove Wetland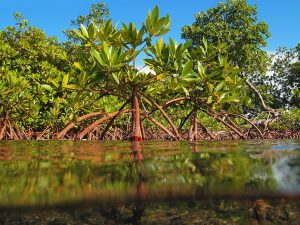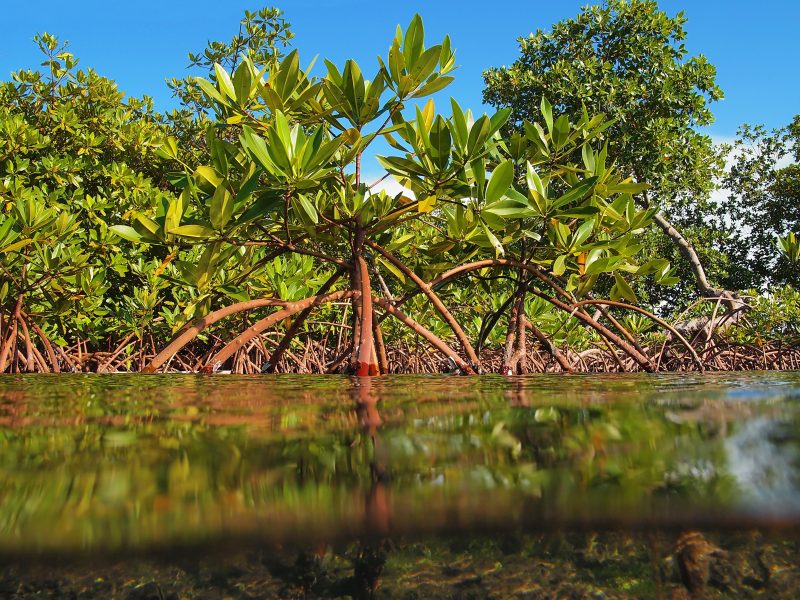 Mangroves are an asset to our local environment and provide economic value from both an environmental and recreational point of view.  For instance, mangroves have a unique natural ability to act as carbon sink storing carbon dioxide and other greenhouse gases while providing critical habitat for species important for human populations.  They also serve as a natural barrier during strong waves and hurricanes protecting areas near the coast.  Mangroves help to stabilise coastlines by preventing erosion and by reducing storm surges and flooding.  Their recreational value is important for sustainable tourism and includes kayaking through the mangrove keys in the North Sound, a popular activity enjoyed by locals and tourist alike.
Approximately 1,500 acres of the Central Mangrove Wetland is protected through the Marine Parks Law, forming part of the Environmental Zone which has been in effect for Little Sound and its fringing mangroves since 1986.
To-date, the Trust has purchased 1,032 acres as part of its Central Mangrove Wetland reserve.  Please consider donating to the Land Reserve Fund (mangroves) so that the National Trust can protect this resource for future generations. Any amount goes a long way if we all pitch in!
We are grateful for our Corporate Partnership with Refuel and their commitment to donate a percentage of all monthly profits to the National Trust for the Cayman Islands, specifically for Mangrove Conservation.  To learn more about joining our Corporate Partnerships, click here.
The Salina Reserve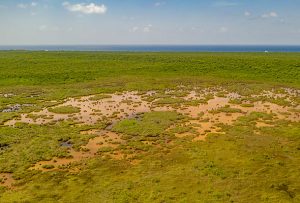 The Salina Reserve is almost entirely undisturbed and is home to nearly every species native to Grand Cayman, including the endemic Blue Iguana.  Over 646 acres in size, this protected area gets its name from the large freshwater wetland in the southern part of the Reserve.  The Salina Reserve is rich with a variety of native habitats including primary forest, shrublands, Buttonwood wetlands, and a sedge wetland.  Since there is such a variety of habitats found within the Reserve, the overall diversity of animal and plant life is very high. Three different types of bats roost in caves on a high forested ridge in the area including the Brazilian Free-tailed Bat, the Jamaican Fruit-eating Bat, and the Big-eared Bat.  Grand Cayman Parrots and White-crowned Pigeons (locally known as "Bald Pates") also nest in the old-growth dry forest and many rare hardwood trees flourish there as well.
The Salina Reserve is focused on ensuring a safe natural habitat for the controlled release of some of our captive-bred Blue Iguanas as part of the Blue Iguana Conservation programme.  The programme has proven successful and the released captive-bred Blue Iguanas adapt to the wild with surprisingly few problems. The iguanas have even been found to nest and produce offspring in this protected area.
There are no clear trails through the Reserve and access is only possible by foot through dense forest and extremely rugged terrain or across extensive flooded wetlands. This has meant that the Reserve has been left fairly isolated and is still very much undisturbed, acting as a haven for Cayman's endemic species.
Colliers Wilderness Reserve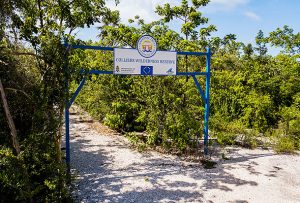 The Colliers Wilderness Reserve is a 190-acre protected area located in East End, Grand Cayman. In 2010, the National Trust entered into a 99-year lease agreement with the Crown to use the site as an additional area to release Grand Cayman's endangered Blue Iguana. There is a short, easy loop trail at the Reserve that winds through an old-growth rocky woodland where many different species of Cayman's plants and animals may be seen. This is a wonderful way to explore the dry forest characteristic of the East End. Look for endemic species such as mistletoes (locally called Scorn-the-Ground), Corato (Agave caymanensis), and Ironwood, as well as the colourfully named Duppy Cap and Lattice Stinkhorn fungus. Protected areas like this one are critical for the protection of our native species.
BACK TO NEWS
sign up for our newsletter